Pulse Marketplace
Enable real-time access to the world's leading experts leveraging our growing marketplace.
Real-time Intelligence, On-Demand and At-Scale.
Organizations rely on Pulse Marketplace to produce rapid, verifiable and actionable insights when external expertise is needed to capitalize on opportunities or address unfamiliar market challenges.
Faster Access
Our patented AI technology enables expert identification and insights delivery in minutes.
Global Perspectives
We deliver deep, senior-level expertise from over 200 countries and territories globally.
Local Insights
In today's changing landscape, context and analysis from local experts is critical to making smarter business decisions.
Combine Human Expertise with Intelligent Technology for
Smarter, Faster Answers
The Enquire AI Difference
Our patented artificial intelligence technology combines contextual and lexical NLP AI matching, 3D-skills scoring, and performance ratings to deliver the most relevant experts to your query. We also recently enhanced our technology with a GPT-powered search guide, Ayda™, to strengthen queries and deliver quick snapshots of relevant insights. When you combine this powerful technology with human expertise, the result is unmatched insights delivery.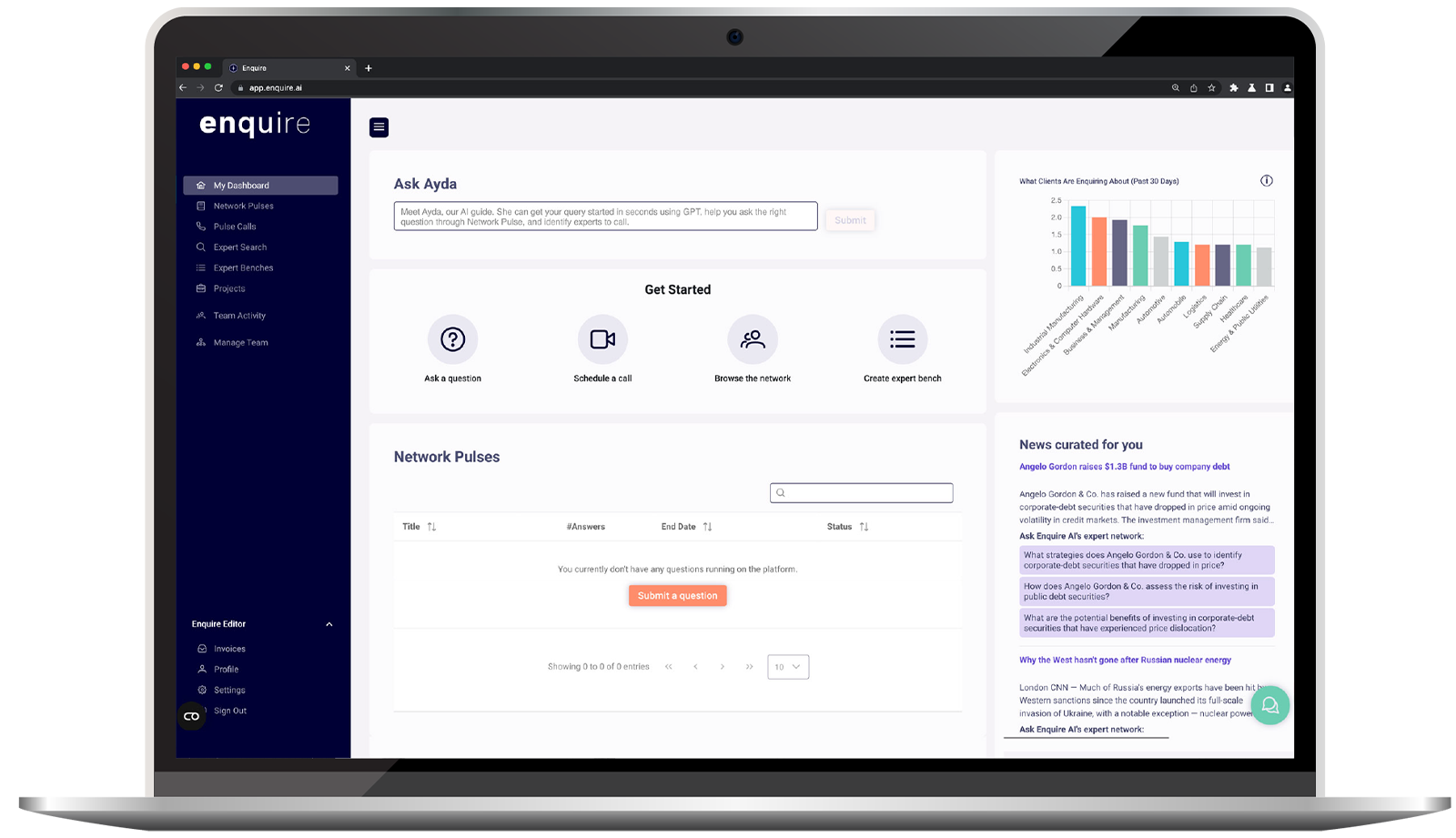 Pulse Marketplace
Subscribe to our AI-powered expert network
Pulse Marketplace API
Integrate our capabilities into your platform
VP, GROWTH EQUITY
Pulse Marketplace powered by Enquire AI provides credible answers to my questions in a very short amount of time. It solves for the need for speed of insights delivery in today's fast-paced market.
Top-10 Private Equity Firm by Capital Raised
Find Your Solution Today
Our patented AI-powered insights engine provides our clients with a comprehensive toolkit to easily discover, validate and leverage expert knowledge from inside or outside their organizations in real-time.