Lumina™
Tap into the expertise that resides within your organization.
Find, Engage, and Collaborate
Partner with us today to customize your own intelligent knowledge network and start building better business outcomes.
Discover Hidden Expertise
When you need to know what talent and expertise resides within your organization, use our AI-powered software to instantly find the right resources.
Connect To The Right Resources
Get instant access to colleagues with the skills, experience, and expertise you need to capture opportunity or address market challenges.
Build Better Project or Proposal Teams – Faster
Mobilize the right resources from within your organization to win new business, serve clients more effectively, and execute at speed and scale.
Combine Human Expertise with Intelligent Technology for
Smarter, Faster Answers
The Enquire AI Difference
Our patented artificial intelligence technology combines contextual and lexical NLP AI matching, 3D-skills scoring, and performance ratings to deliver the most relevant experts to your query. We also recently enhanced our technology with a GPT-powered search guide, Ayda™, to strengthen queries and deliver quick snapshots of relevant insights. When you combine this powerful technology with human expertise, the result is unmatched insights delivery.
Unlock Your Organization's Potential
Dencentralize Information and Harness Insights in Real-Time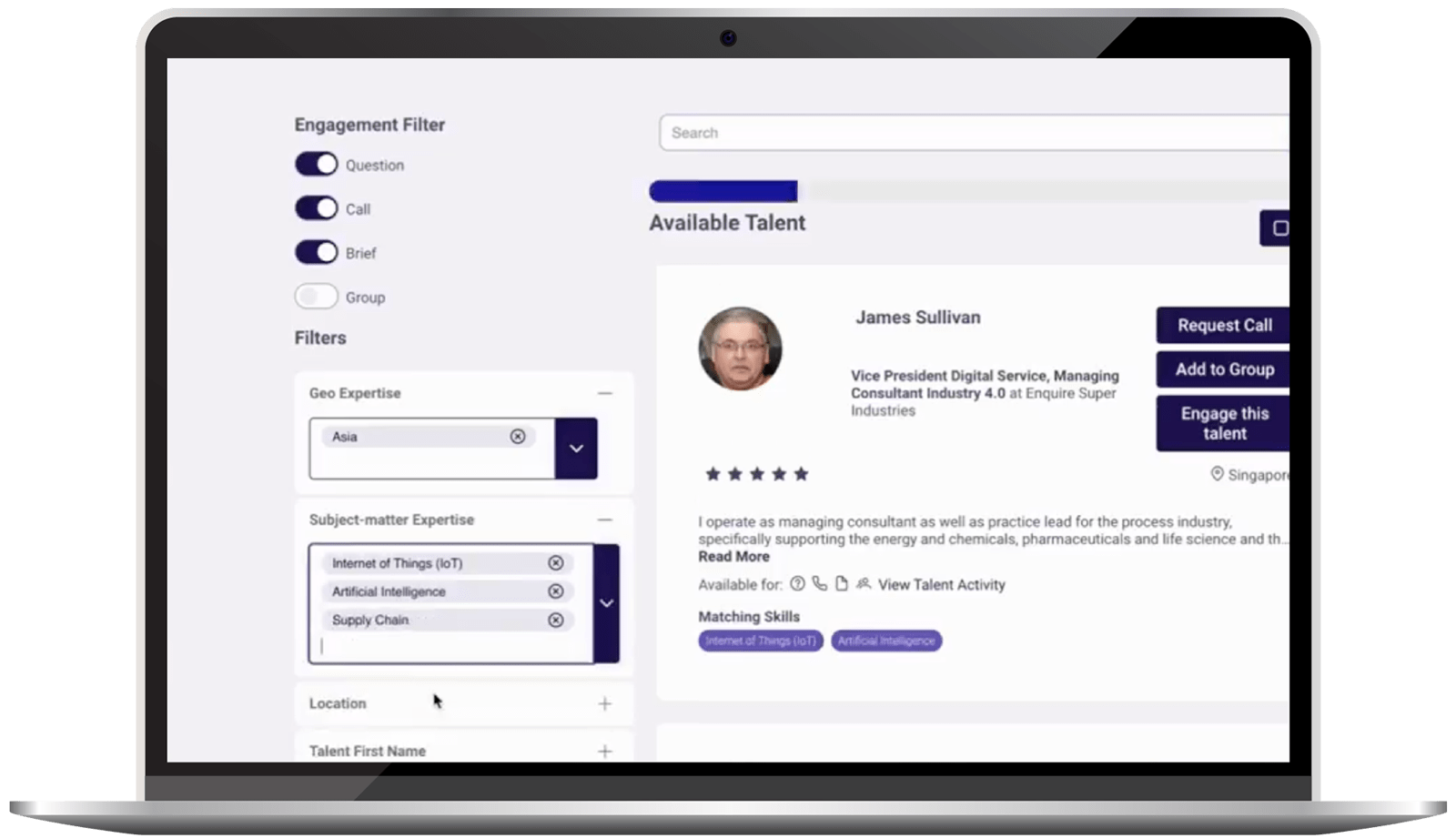 Lumina™
Tap into the expertise that resides within your organization
Director, Enterprise Sales
The Lumina software offered by Enquire AI allows our clients to identify and engage the right talent for every situation at speeds that aren't possible in a traditional talent marketplace. It has never been more important to be able to move at the speed that your business requires, and Lumina enables access to expert knowledge and talent in real time.
Find Your Solution Today
Our patented AI-powered insights engine provides our clients with a comprehensive toolkit to easily discover, validate and leverage expert knowledge from inside or outside their organizations in real-time.